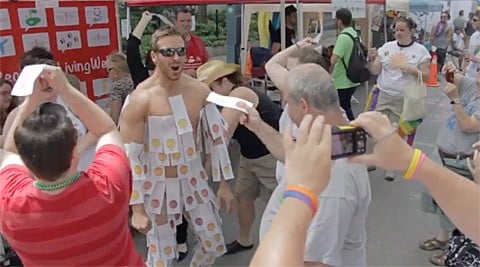 Anyone attending Toronto Pride may have gotten a glimpse of a once hairy man who was wearing nothing but sunglasses, sandals, and body wax strips that covered him over his entire body. Anyone who wanted to could pull any one of the strips, both removing his hair in that area and revealing a coupon for 25% off to Fuzz WaxBar.
Each strip also featured a cartoon face indicating the level of pain it would inflict on the brave model, in addition to humorous quips like "From bear arms to bare arms," "We'll take the monkey off your back," and "You'll walk a little differently." 
For those who were not fortunate enough to witness the publicity stunt (devised by marketing co. Lowe Roche) in person, feel free to check out the highlight video AFTER THE JUMP...