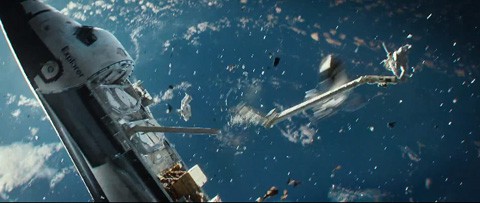 Sandra Bullock becomes untethered in a Space Shuttle-ISS disaster and spins out into the void in the new trailer for Alfonso Cuaron's Gravity, which also stars George Clooney.
Director James Cameron (Avatar, Titanic) thought it was out of this world, he told Variety:
"I was stunned, absolutely floored. I think it's the best space photography ever done, I think it's the best space film ever done, and it's the movie I've been hungry to see for an awful long time....What is interesting is the human dimension...Alfonso and Sandra working together to create an absolutely seamless portrayal of a woman fighting for her life in zero gravity."
Check out the trailer and see if you're impressed, AFTER THE JUMP...