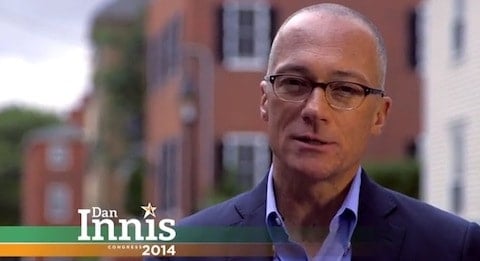 This past Wednesday University of New Hampshire Dean of Business and Economics Dan Innis announced that he would be running for the congressional seat for the Republican party versus the incumbent Democrat, Carol Shea-Porter. Dan Innis also happens to be a gay man and makes mention of both his husband and their children in his announcement video. It's an encouraging sign of equality advancement when a gay man can be a viable Republican candidate without being completely disavowed by the howler monkeys on the right wing.
It's also a sign that doublespeak and falsehoods are not a monopoly owned by far right heterosexuals; Innis brings up how he was raised in a blue-collar family that learned the value of hard work and responsible financial management, but comes out pro big business and calls the Affordable Care Act a "disastrous takeover of health care that directly attacks families, small businesses, and seniors." He doesn't give specifics that could be fact-checked, but the small business claim is most likely of the three to be completely false from every angle.
So, gay or not, Dan Innis is still just another Republican. Dan's announcement video can be seen AFTER THE JUMP...