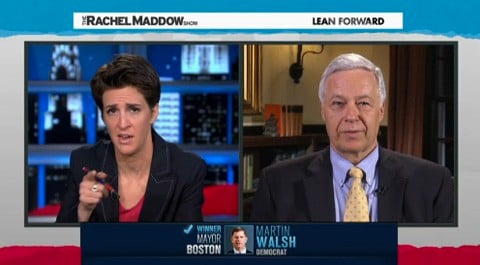 Rachel Maddow speaks to Rep. Mike Michaud (D-ME) who came out of the closet earlier this week in response to what he called a "whisper campaign" by opponents, spoke to Maddow last night in a segment assessing the state of the Maine gubernatorial race.
Said Michaud:
"I have no idea who was doing it - all I know is that there was speculation out there that I was gay and I wanted to be upfront, be honest with the voters of the state of Maine, 'yes I am but what should that matter? I'm the same person today that I was last week, last year and the year before.' I'm Mike, and I want to talk about the issues and it was very important for me to put that on the table so we can move on and talk about issues."
Watch, AFTER THE JUMP...