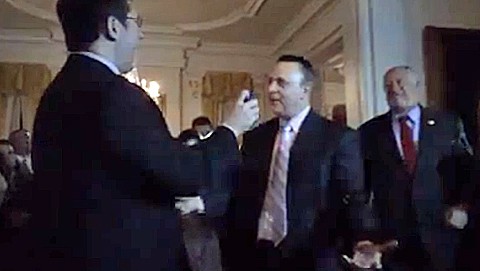 At a marriage equality celebration last night at the Governor's mansion, Rep. Sam Yingling stopped the party to propose to his longtime partner Lowell Jaffe.
Said Yingling: "I love that you care about other people more than yourself…I want to spend the rest of my life with you."
Watch, AFTER THE JUMP…
Buzzfeed reports that the wedding has been set for next summer.
Don't miss our other recent Gay Wedding and Marriage Proposal videos…
Gay Wedding Video of the Day: Donavan and Ricardo [tlrd]
Gay Wedding Video of the Day: Shannon and Sandy [tlrd]
Gay Marriage Proposal of the Day: Jeanne and Alissa[tlrd]
Gay Marriage Proposal of the Day: Will and RJ [tlrd]
Gay Wedding Video of the Day: Jordan and Devon [tlrd]