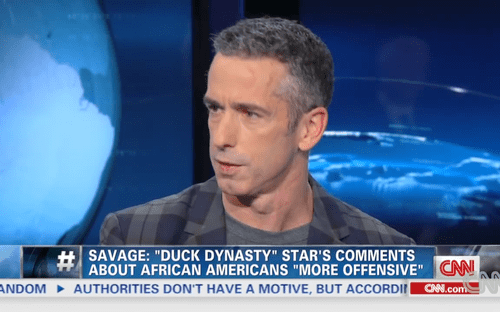 Dan Savage stopped by Anderson Cooper's CNN show last week to weigh in on the Duck Dynasty controversy and his thoughts on why Phil Robertson isn't getting as much blowback for the racist comments he made in the now-infamous GQ interview as he did for the anti-gay remarks.
Said Savage:
I actually thought what he said about African-Americans in the South under Jim Crow was so much more offensive. At a time when an African-American looked funny at a white person they could be lynched, oddly enough he never heard any of them complaining to him about the circumstances...but this is America and sex is [something] we'd rather be talking about than race or anything else. So the fact that he invoked gay people's rear ends means that's going to be the conversation instead of the really patently offensive, absurdly revisionist things he said about African-Americans."
Watch, AFTER THE JUMP...
[via RealClearPolitics]