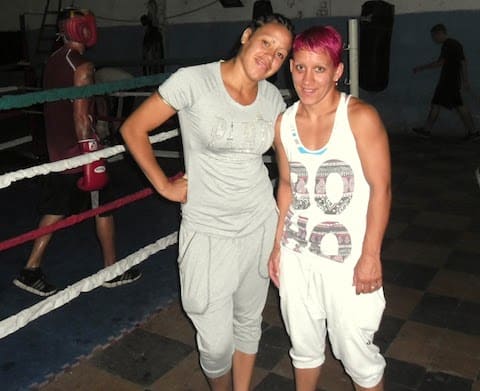 Boxing is one of those sports where people don't typically expect to find gay competitors - well, people who don't actually know gay people don't expect them to be there, anyway. Part of what made Orlando Cruz's coming out so spectacular was that it showed the world that gays really do cover the spectrum and can be found in any sport.
Now we have a second and third boxer to come out while still active in the sport, Blabbeando reports. Argentinian Ana Laura "La Monita" Esteche just won the light welterweight championship for the World Boxing Association, and in the post-competition interview she thanked "her woman and my mother-in-law."
"Her woman" is Johanna "Yoki" Giménez, with the pink hair above. Giménez also just so happens to be a WBA professional boxer, and the two work out together daily, waking up as early as 5am to train. Esteche is confident in coming out, saying: 
It's that it's something that you should not hide, after all happiness is not something you should hide, it's something to be shared and I - we - are happy.
Photo courtesy of Martín Canevaro and the 100% Diversity & Rights collective.
You can see Esteche's Spanish-language interview AFTER THE JUMP...