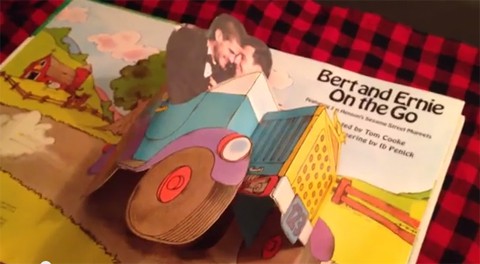 Making the rounds on the innerwebz is this heartwarming video showing a Bert and Ernie pop-up book that one sister re-purposed as a gitft for her brother's same-sex wedding.
While the pics of the affectionate couple pasted over Sesame Street's characters will bring a smile to your face, the additional pictures of their friends and family members celebrating alongside them will brighten your heart — if not, you're probably Oscar the Grouch.
Watch the video AFTER THE JUMP…
Of course, Bert and Ernie have long been considered a gay couple even though their creators say their puppets don't have sexual orientations — someone might wanna tell Miss Piggy and Kermit that.
Also, the song in the video is the LCAW Remix of SALES by Renee which you can listen to here.