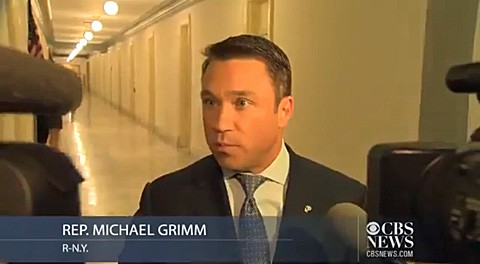 Rep. Michael Grimm (R-NY) apologized for threatening a NY1 reporter following last night's State of the Union address. Grimm had threatened to throw reporter Michael Scotto over the balcony or break him in half after Scotto mentioned an ongoing campaign finance investigation into Grimm's 2010 election.
Grimm said he apologized to Scotto and Scotto "was gracious" and accepted it, adding "I'm a human being, and sometimes your emotions get the better of you. The bottom line, though, is it shouldn't happen, you shouldn't lose your cool. That's why I apologized. When you're wrong, you're wrong, and you have to admit it. It shouldn't happen."
Watch Grimm's full statement, AFTER THE JUMP...