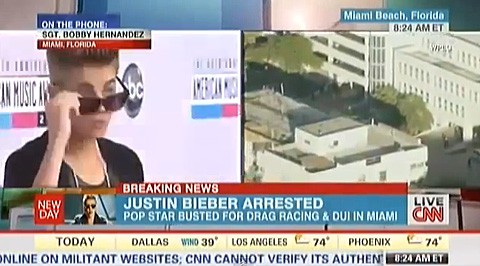 The egg-throwing pop star's week has come to a head.
After allegedly smoking pot all day, drinking beer and popping anti-depressants, bad-boy pop star Justin Bieber went on a wild pre-dawn drag race in Miami Beach that landed him in jail Thursday morning, police said.

When stopped by police in his Lamborghini, Bieber barraged officers with a string of F-bombs, babbled incoherently, refused to get out of his car and, when he finally stepped out, declined to take his hands out of his pockets, police sources told The Miami Herald.

He was booked at Miami Beach police headquarters on DUI, resisting arrest and drag-racing, a police spokesman said.
Watch CNN's report, AFTER THE JUMP...