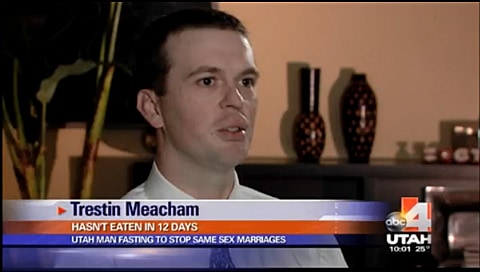 Trestin Meacham, A Utah man opposed to same-sex marriage, has been on a hunger strike for 12 days to persuade the state to exercise the option of "nullifaction", ABC 4 Utah reports:
According to his interpretation of states' rights, Utah can nullify the recent federal court ruling by simply choosing not to follow it.

"Jefferson made clear that the courts are not the supreme arbitrators of what is and what is not constitutional. The states also have power," said Meacham. 

But that's not the interpretation of attorney Greg Skordas.  "If people want to change that they have to go through the appropriate processes," said Skordas. Skordas said nullification doesn't work with Utah's case. When the federal government grants someone a constitutional right, states must recognize it.  "When individual personal liberties are at stake the state can't infringe on that, even if it's the will of the people," said Skordas.
Watch an interview with Meacham, AFTER THE JUMP...
Meacham has lost 25 pounds so far. He writes, on his website:
I began a fast on Saturday the 21st of December; and will continue the fast until the State of Utah exercises its right of nullification. I will go without food or drink, but will continue to drink water, and take weekly vitamin supplements.
On Friday the 20th of December, a federal judge overturned the State Constitution of Utah and ruled against and its restriction against same sex marriage. In so doing, Article 1 Section 8 and the 10th Amendment of the U.S Constitution were violated. Even worse a law voted on by a strong majority of the people of Utah was rescinded, thus robbing the people of their voice in government. And if this law remains, the natural rights of free speech and religious freedom, vouched safe by the first Amendment of the U.S. Constitution, will be violated.
This has nothing to do with hatred of a group of people. I have friends and relatives who practice a homosexual lifestyle and I treat them with the same respect and kindness that I would anyone. This is about religious freedom, and an out of control federal government.
Watch an interview with Meacham, AFTER THE JUMP...