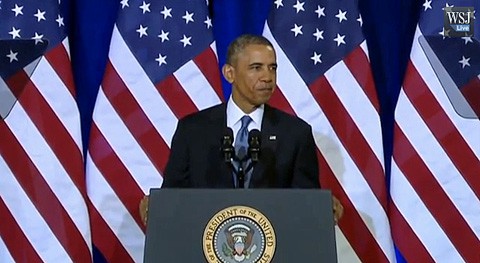 President Obama gave a speech announcing a number of NSA reforms including an end to tapping the phones of allied governments and the holding of metadata from millions of Americans, the NYT reports:
In a much-anticipated speech that ranged from broad principles to technical details, Mr. Obama said he would end the vast collection of phone data as it exists today. He will also restrict the ability of the National Security Agency to throw a net well beyond the data of an individual target and collect unlimited numbers.

And the president said he would sharply restrict eavesdropping on the leaders of dozens of foreign allies, the disclosure of which ignited a diplomatic firestorm with friendly countries like Germany.

But Mr. Obama did not accept other recommendations that have been made to him on reining in surveillance, like requiring court approval for so-called national security letters, in which the government demands information on individuals from companies. That was a victory for the F.B.I. and other law-enforcement agencies, who argue that these letters are vital to investigations.
Obama also briefly mentioned leaks of NSA intelligence by Edward Snowden:
"I'm not going to dwell on Mr. Snowden's actions or his motivations. I will say that our nation's defense depends in part on the fidelity of those entrusted with our nation's secrets. If any individual who objects to government policy can take it into their own hands to publicly disclose classified information, then we will not be able to keep our people safe, or conduct foreign policy....Moreover, the sensational way in which these disclosures have come out has often shed more heat than light, while revealing methods to our adversaries that could impact our operations in ways that we may not fully understand for years to come."
Guardian journalist Glenn Greenwald, who helped break the Snowden story, called the speech a PR stunt:
"It's really just basically a PR gesture, a way to calm the public and to make them think there's reform when in reality there really won't be. And I think that if the public, at this point, has heard enough about what the NSA does and how invasive it is, that they're going to need more than just a pretty speech from President Obama to feel as though their concerns have been addressed."
Watch the full speech, AFTER THE JUMP...