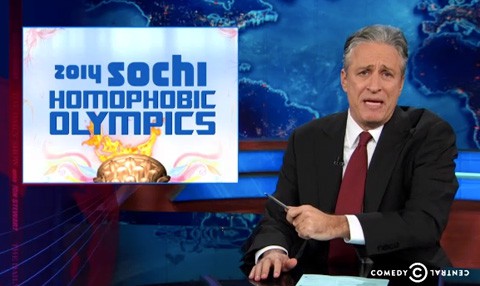 Jon Stewart last night looked at the countries around the world vying for the Olympic gold medal for homophobia — India, Nigeria, and Uganda — and, well, the United States.
But Stewart thinks Vladimir Putin's statement to press that gays are welcome but should leave the children alone may win Russia gold in the prestigious 'Gay People Pedophile Conflation' event.
However, "When you say 'please leave the children in peace', what would be an example of that? For instance, would you not want to walk up to a small boy you've never met, lift up his shirt, and kiss his bare torso? Is that the kind of creepy behavior you're talking about?"
Watch, AFTER THE JUMP...