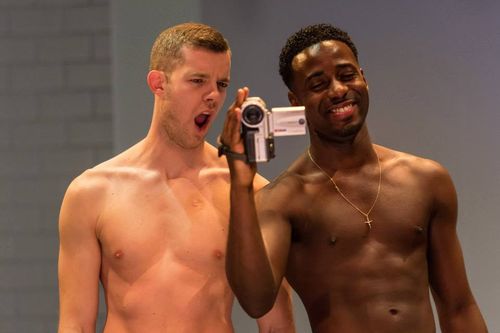 Russell Tovey, who has a role in the upcoming HBO gay drama Looking, is also currently starring in a play at London's Royal Court Theatre called The Pass, about a gay celebrity footballer. He's joined by Gary Carr, who appears in the new season of Downton Abbey.
Wrote the Evening Standard in a recent interview:
Arguably Tovey should be in LA, capitalising on his newly raised profile, but he's been waiting a year to play footballer Jason in The Pass, directed by John Tiffany (Once, Let the Right One In).

"I did an early reading and thought the script was brilliant. The writer, John Donnelly, is straight but fascinated by homophobia in football."

Via three hotel rooms, the play charts Jason's journey to becoming a Beckham-style superstar. In the first act we see 17-year-old Jason and Ade (played by Downton's Gary Carr) the night before they make their first team debut. As they banter about girls and sex, a chemistry develops. But is it just Jason's tactic to outmanoeuvre his rival?
"You don't want to say it's a play about a gay footballer because Jason may be gay but he doesn't identify himself as such," says Tovey of his closeted character. "So it's a play about how he's betrayed friendship and signed a pact with the devil for his career. He's not sad because he's gay. He's f--ked up, and it's his choice."
Check out some more promo photos from the production and an interview with Tovey and Carr as well as writer John Donnelly and director John Tiffany, AFTER THE JUMP...