On a media tour of conservative radio shows to help plug his anti-gay State Marriage Defense Act, Sen. Ted Cruz (R-TX) lamented the 'sad trend' of attacks on 'traditional marriage' laws by advocacy groups and the Obama administration, which Cruz labeled "the most hostile-to-traditional-marriage administration this country has ever seen." Politico reports: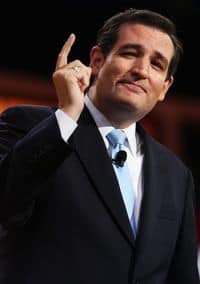 Cruz cited the administration's decision to recognize same-sex marriages performed in Utah before a Supreme Court order halted gay marriage in the state once more.
"The administration has been using the authority of the federal government to try to force states, to force federal recognition of marriages that state law prohibits," Cruz said. "The Obama administration came into Utah and said, 'We're not going to listen to what the U.S. Supreme Court said. We, the federal government, are going to recognize marriages in the state of Utah and Utah state law explicitly does not recognize as marriage' and that was really, in my view, an abuse of power.
Listen, AFTER THE JUMP...
Cruz's State Marriage Defense Act, which would require the federal government to respect state laws defining marriage between a man and a woman, has a companion bill that was introduced in the House by Rep. Randy Weber (R-TX) back in January. With such a 'hostile' leader in the White House and with a ruiling in the lawsuit challenging Texas' ban on same-sex marriage coming sometime in the near future, however, it seems these bills offer little more than lip service to conservative voters here in Texas.
Still, its nice knowing that Lone Star lawmakers are trying their darndest to keep gays in a second-class status nationwide.
Listen to the interview, AFTER THE JUMP...