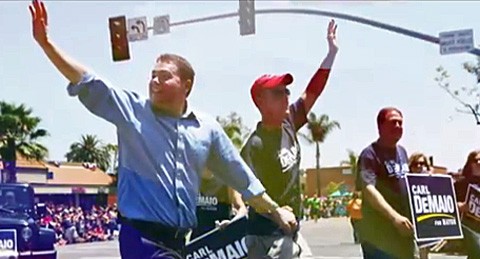 Former San Diego councilman Carl DeMaio, now a Republican candidate for Congress, is making headlines for a brief segment of a new campaign ad which features his partner, Johnathan Hale, as the couple marches in a Gay Pride parade, the Wall Street Journal reports:
Several GOP campaign officials and Elizabeth Wilner, who tracks campaign ads for the nonpartisan firm Kantar Media, said it was the first time they knew of a candidate of either party airing an ad featuring a gay partner. The implications are deep for a Republican Party whose platform defines marriage as a union between one man and one woman at a time when same-sex marriage is becoming more broadly accepted.

"This is who I am," Mr. DeMaio said in an interview. "It's something that's important to me. I want to embrace equality, and feel like the party should, too."
NOM is a foe of DeMaio and plans to run ads against him before the June 3 primary.
The WSJ adds:
He is one of the party's top challengers this year as it tries to unseat Democratic Rep. Scott Peters. Although other Republicans are running for the seat, Majority Leader Eric Cantor (R., Va.) has given Mr. DeMaio $10,000, and Majority Whip Kevin McCarthy (R., Calif.) contributed $5,000. Conservative Georgia Rep. Tom Price kicked in $1,000.
Watch the ad, AFTER THE JUMP...