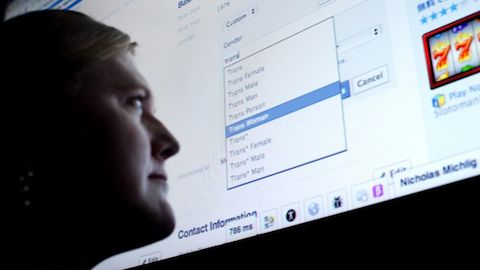 Yesterday Facebook massively expanded their gender identification options for users from two to over fifty, and right on cue the conservative talking airheads over at Fox News have responded with bizarre false equivalencies, melodramatic confusion, and outright mockery.
One reporter commented "[I]ntersex, whatever that is..." apparently forgetting that his job as a reporter is to know what he's talking about. Another pair snarked, "Heading over to the male, Clayton." "No, I changed mine to 'Intersex.'"
And then great thinker Todd Starnes posted a shabby straw man on his own Facebook wall, writing, "What if you identify as a pine cone or a chicken or a weed whacker?" Identifying as a chicken or pine cone means one is suffering from species dysphoria, which is utterly unrleated to gender or sexuality, and identifying as an inanimate object was not a mental condition I was able to find with a cursory Google, Wikipedia, and DSM-IV/5 search.
A video of clips of various Fox News reports, if you can stomach it, is AFTER THE JUMP...