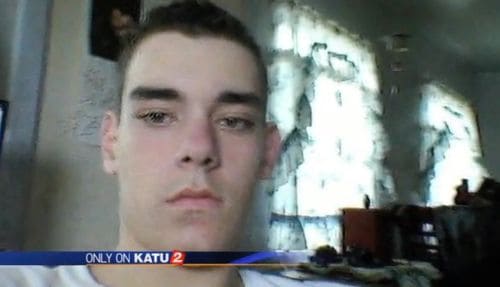 Dustyn Murrain (above) experienced a harrowing ordeal last week when he was attacked and tortured in a shed by four peers, two of whom he claimed as friends. Murrain was beaten in the head with a crowbar, received shots to the chest and groin with a BB-gun, and then had a swastika carved into his forehead, likely by Blue Kalmbach, a student who claims that Murrain bullied them (by calling one of them 'gay') first.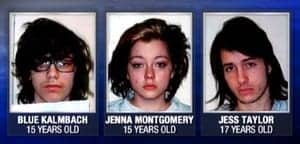 Dustyn's mother, Kelli Murrain, has said that whether her son bullied the four teens or not--she does not believe that he did--his verbal harassment should never have constituted such extreme physical backlash.
KATU.com reports:
"I've been called lots of names and I never went out and shot anybody or beat them in the head with a crowbar," [Kelli Murrain] said.
Murrain says her son had emergency surgery Monday night for the BB shot that went through his groin area. He has staples in his head from getting hit with a crowbar...
It's a cold indifference Kelli Murrain finds difficult to fathom.
"These kids threw away their lives and they don't even get it," she said. "They don't understand what they did. They're still making excuses. It's like OK ... maybe you'll get it when you're sitting in jail."
Another student, Curtis Floyd Wilkinson from David Douglas High School, came forward to speak out against Kalmbach as well, claiming that he was friends with Kalmbach until he began to bully him by kicking the backs of his legs while walking down the school hallway. Wilkinson spent time in a psychiatric ward for severe depression, and he links Kalmback to that stint.
"The bullying thing at school can get really really bad and people should probably know about it. This should not go unnoticed and should really be looked at," Wilkinson said.
Murrain, still rattled about his experience, will have both mental and physical scars to remind him of his torture.
"Why they would carve a swastika in his forehead? It's something he'll never forget, if the scar doesn't go away; every time he looks in the mirror he's going to be reminded of what happened to him," [his mom] said.
Watch news coverage of the horrific story, AFTER THE JUMP...