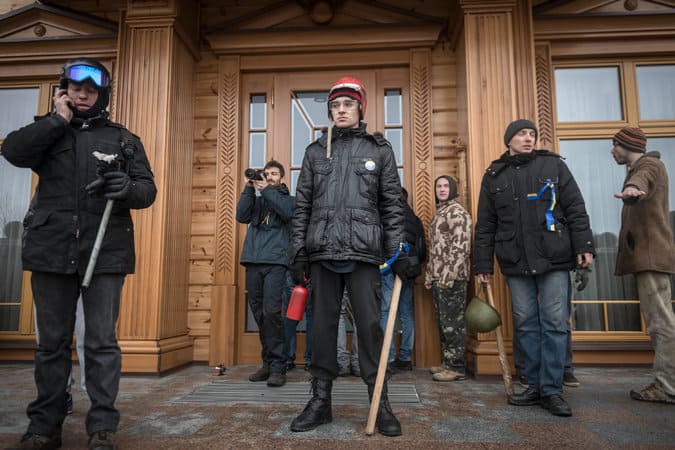 Major developments this morning in Ukraine, where opposition leaders have taken control of the presidential palace and parliament has voted to remove president Viktor F. Yanukovych from his post.
The New York Times reports:
Opposition leaders took control of the presidential palace outside Kiev on Saturday, as Ukraine's president, Viktor F. Yanukovych, fled the capital and Parliament, beginning to chart what appeared to be a new course for the former Soviet republic, called for elections to replace him.

Members of an opposition group from Lviv called the 31st Hundred — carrying clubs and some of them wearing masks — were in control of the entryways to the palace Saturday morning. They watched as thousands of citizens strolled through the grounds during the day, gazing in wonder at the mansions, zoo, golf course, enclosure for rare pheasants and other luxuries, set in a birch forest on a bluff soaring above the Dnepr River.

"This commences a new life for Ukraine," said Roman Dakus, a protester-turned-guard, who was wearing a ski helmet and carrying a length of pipe as he blocked a doorway. "This is only a start," he added. "We need now to make a new structure and a new system, a foundation for our future, with rights for everybody, and we need to investigate who ordered the violence."
Yanukovych, who has fled to the city of Kharkiv, stressed that he has not resigned and has called his ouster a coup.
According to the BBC, jailed former prime minister and opposition leader Yulia Tymoshenko has apparently been freed.
A BBC correspondent saw Tymoshenko driven away in a car after leaving the hospital. MPs had voted to pave the way for her release on Friday. She was sentenced to seven years in prison in 2011 for abuse of power.

Her supporters have always maintained this was simply Mr Yanukovych taking out his most prominent opponent, and her release has always been a key demand of the protest movement.
A spokesperson says Yanukovych intends to deliver a televised address later today.
Watch video of protesters swarm through the presidential palace, AFTER THE JUMP.