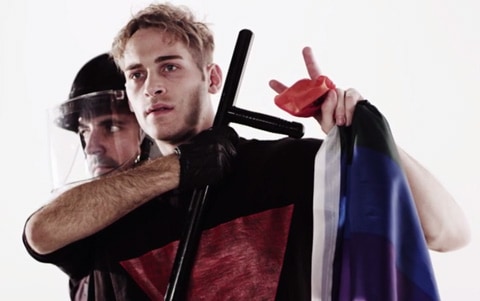 From Vice Magazine and Madonna, comes this PSA as the finale of Katy Perry's month-long curation of their #ArtForFreedom project:
They write:
"The Peace Sign" is the third in a series of PSAs inspired by recent images of violence against the LGBT community in Russia. The movement seeks to use the #GayPropaganda hashtag to unite the voices of LGBT people and allies alike in support of those people facing prejudice and violence in Russia, and around the world. In a mission akin to #ArtForFreedom, (We Are) #GayPropaganda seeks to redefine 'gay propaganda' by asking LGBT communities and their allies around the world: What does #GayPropaganda look like to you?'
#GayPropaganda seeks to reclaim, educate, empower, and inspire LGBT people and their allies by connecting art, images, and personal storytelling through the powerful yet simple social tools we use everyday.
Watch, AFTER THE JUMP...