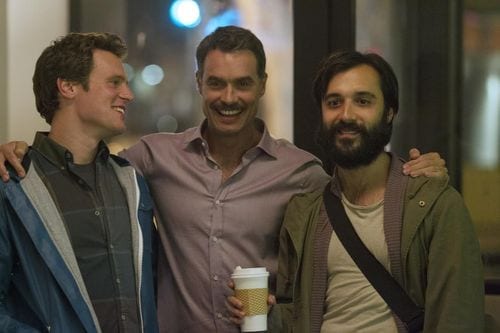 The blink-and-it's-over season of Looking wraps up on Sunday night.
Jonathan Groff spoke about the finale with The Hollywood Reporter and the journey of his character, Patrick:
When we meet Patrick, he's awkwardly in the woods, uncomfortable but trying to expand and find a new side to himself and putting himself out there. We see a huge evolution in him reflected through his relationship with Richie (Raul Castillo), and then with Kevin, there's a lot of sexual tension. By the end of the finale, he's gotten himself into a really tight spot because he's dealing with the repercussions of letting himself go. He went from not having a boyfriend to having these two amazing men interested in him, and they are two very specific, wonderfully confusing relationships. He doesn't know where to turn.
Everything definitely comes to a head, and the characters take a giant step forward. Whether that's for the better or worse, it's hard to say.
He also speaks a bit about next season:
I'd love to spend more time with Agustin and Dom because in the first season they spend a lot of time apart. And I definitely want to go deeper into the triangle of Patrick, Kevin and Richie. They have both been upped to series regulars for season two, so I think they're going to explore more of that, obviously.
Watch a preview for the finale and a very brief clip, AFTER THE JUMP...
What do you want to see next season?
Is Dom's opening night going to be a disaster?