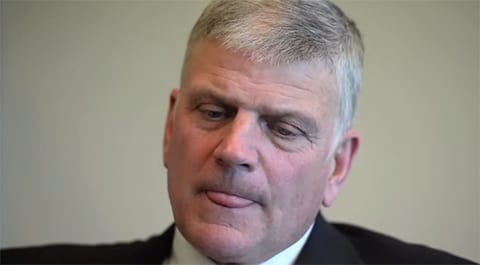 After praising Russian President Vladimir Putin for his moral treatment of homosexuals as pedophiles, Franklin Graham — the evangelical spawn of anti-gay preacher Billy Graham — doubled-down on his love of Putin, adding that gays don't "adopt" children so much as "recruit" them; a distinction that he never actually explains.
During an interview with Tim Funk of The Charlotte Observer, Graham calls up the right-wing bogeymen of the president's lockstep march with the so-called "gay and lesbian agenda" and religious intolerance of gay people who dare label his "difference of opinion" as bigotry or homophobia.
In one delicious part of the interview, Funk asks Graham why he's opposed to enshrining Islamic Sharia law into the U.S. society when he supports enshrining Christian Biblical law into anti-marriage legislation. Graham, unsurprisingly, doesn't answer, only responding with "Well I believe the Bible from cover to cover. And I believe the Old Testament as well as the New Testament."
Watch the interview AFTER THE JUMP...