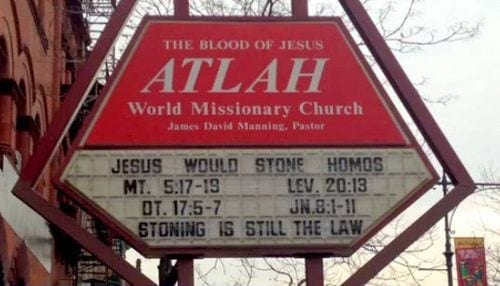 In recent weeks we've posted about James David Manning, birther and chief pastor at the ATLAH World Missionary Church on 123rd Street in New York City's Harlem neighborhood, and his homophobic church signage.
According to Manning, President Obama has unleashed gay demons upon the black male community "hoping to influence as many black males to subscribe to ideals of 'homosexual perverted LGBT' as possible." This has led to the outing of Jason Collins and Michael Sam which in turn is "encouraging more black men to come out of the closet."
Joe Jervis points out that Manning is ratcheting up the rhetoric with a new sign (above) and video, which you can watch, AFTER THE JUMP...