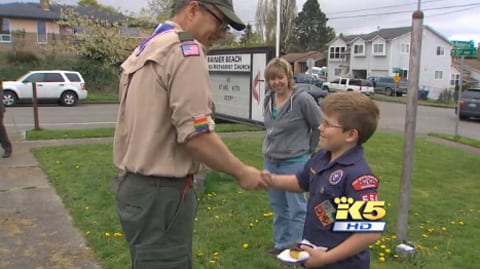 Last week we reported that the Boy Scouts of America had removed openly gay scout leader Geoffrey McGrath in the first enforcement of its new rule barring scout leaders.
But McGrath has not stopped leading his troop. And the Rainier Beach United Methodist Church is backing him, KING5 reports:
"I have not tendered my resignation," said McGrath. "Until I am relieved of my duty properly, I stand in my post."

It's a post supported by Pastor Monica Corsaro who leads the host church for McGrath's charter application. "It's very disappointing that a policy that is so blatantly discriminatory is being acted out, and so I think it makes us stand more firm and be more clear that Geoffrey is our Scoutmaster and Geoffrey will remain our Scoutmaster," said Corsaro, who also said the Boy Scouts of America have yet to contact her directly.

"In my humble opinion, I don't feel like I've been communicated to by the Boy Scouts of America, Geoffrey also received an email which I was copied on but I have received no direct communication from the Boy Scouts of America."
Watch KING5's report on the church and troop's devotion to McGrath, AFTER THE JUMP...