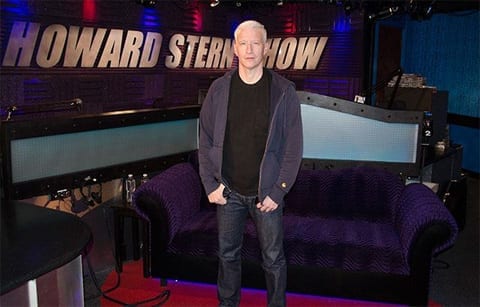 Anderson Cooper gave a great interview to Howard Stern yesterday.
The CNN news anchor spoke about Ronan Farrow, CNN's ratings, Jeff Zucker, if he'd ever go to FOX News, how much he worries, being a child model, getting propositioned for sex by a photographer, going to Yale, his brother's suicide, how he got started as a reporter, traveling to foreign countries, Charlie Chaplin, Truman Capote, when he knew he was gay, criticism for being in the closet for so long, when his hair started turning gray and why he didn't color it, getting a manicure in public, rumors he was going to replace Matt Lauer on the Today show, his partner and whether he'll marry, Anderson Live, The Mole, whether he'd host a game show, inheriting his mother's fortune, the non-importance of wealth, working out, Botox, 60 Minutes, tattoos, Lena Dunham, Piers Morgan, bit actors, Andy Cohen, his renovated NYC firehouse home, getting hit on, his politics, Alec Baldwin's anti-gay slurs, and responding to trolls on Twitter.
Listen to the excellent interview, AFTER THE JUMP...