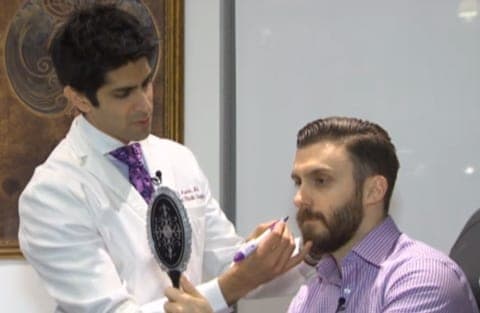 Have you always wanted to grow a Grizzly Adams beard but can't because of genetics? Well, there's hope for you yet!
Meet Dr. Jamil Asaria, a plastic surgeon in the business of beard implants. He does about one beard implant for the folically-impaired a week. All it takes is $5,000 to $15,000, a 12-hour operation, a week of redness and swelling, a week of not shaving and voila — instant hipster-beard!
Beards have become quite stylish in the new millenium. There's fonts made of beards, art made from beards, ramen bowls made of beards, beard clubs at high schools, beard magic tricks, beard porn (SFW) and even videos just featuring sexy dudes in beards all for your beard-loving enjoyment.
Of course, if you can't grow a beard, you can always just buy this hat that comes with a beard attached.
See the beard implant video AFTER THE JUMP…