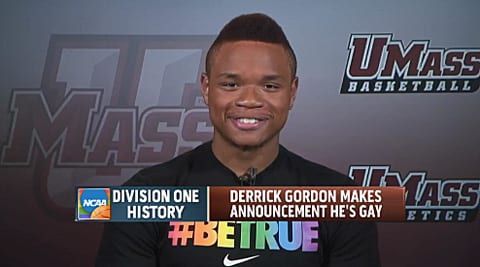 News broke earlier today that UMass basketball player Derrick Gordon has come out of the closet, making him the first active openly gay NCAA Division 1 player. Andrea Mitchell spoke with him today on MSNBC.
Gordon said he made his decisions because "there's a lot of kids in my situation right now that can't be themselves and have to hide who they really are."
Gordon said that he consulted with Jason Collins before coming out and says he didn't expect his teammates to react with the acceptance that they did.
Gordon transferred from Kentucky and said "I just felt that I couldn't go the next couple months just hiding and being somebody I'm not...Having people out there saying gays aren't allowed in sports...I think nobody in this world should have to live like that."
Gordon says he was nervous about telling his mom and his parents froze for a little bit but his mother said "I always knew" and his father "came around and supported me."
Watch Mitchell's excellent interview, AFTER THE JUMP...