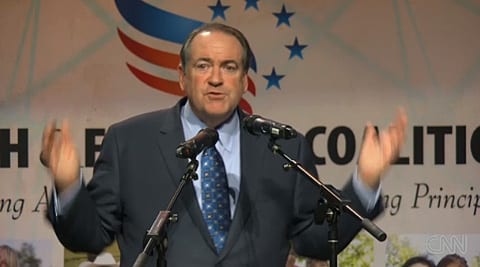 Mike Huckabee spoke to the Iowa Faith and Freedom Coalition yesterday and blasted the "Extreme Court" for letting stand the decision by a lower court against a New Mexico photographer who refused to shoot the commitment ceremony for a gay couple.
Said Huckabee:
"Why is it that Christians stand back and take it in the teeth time and time and time again? But we cannot change this country if we do not rise up and vote with an informed mind and a committed spirit and if we're not willing to stand along."
Added Huckabee:
"I'm not against anybody. I'm really not. I'm not a hater. I'm not homophobic. I honestly don't care what people do personally in their individual lives...But … when people say, 'Why don't you just kind of get on the right side of history?' I said, 'You've got to understand, this for me is not about the right side or the wrong side of history, this is the right side of the Bible, and unless God rewrites it, edits it, sends it down with his signature on it, it's not my book to change.' Folks, that's why I stand where I stand."
Watch Huckabee's remarks, AFTER THE JUMP...