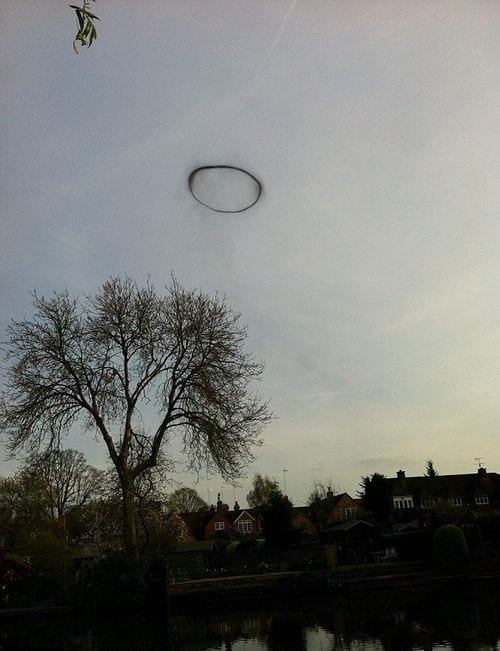 A mysterious phenomenon in the British sky has folks baffled.
SWNS TV writes:
A schoolgirl was stunned when when she looked into the sky to see this enormous unexplained black ring. Georgina Heap, 16, was playing tennis with mum Jo when she was stopped in her tracks by the fascinating sight. Gazing into the sky, the pair saw a clearly defined black circle which looked like a giant smoke ring. The ring remained there for around three minutes before disappearing completely. The spectacle, which took place near Leamington Spa on Friday evening, has stumped officials.
IBT adds:
Miss Heap, who is studying for her GCSEs, described the circle as "the weirdest thing I have ever seen."

"I looked up at it and thought 'what the hell?', it was amazing," she said. "It was just floating there like a cloud and then it disappeared. It wasn't birds either. There were about ten of us who stopped what we were doing and watched."

The 16-year-old photographed the circle on her iPhone but so far, experts have been un able to offer explanation for the unusual sighting.
Watch (and offer your theories), AFTER THE JUMP...