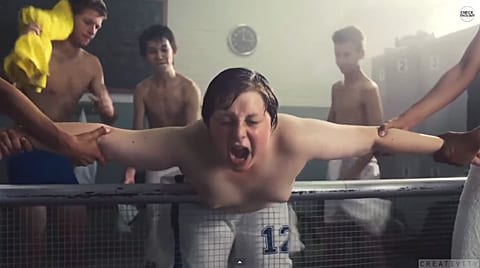 A new VH1 PSA set to the tune of Gloria Gaynor's "I Will Survive" tries to find humor in the world of school bullying, telling those under duress to hold on because one day they'll be the boss.
But is that any reassurance to those whose lives are fraught with fear over swirlies, wedgies, towel-snapping, face-sitting, verbal abuse, and physical torture? And what about those who never make it that far?
Jezebel lets VH1 have it:
I get it, VH1. You want to make a cool and funny anti-bullying PSA so you can pat yourself on the back for taking a safely non-controversial stance against something like bullying, because that's all the rage these days. I know your heart is absolutely in the right place (or the hearts of the public relations/marketing team who came up with this are). But telling kids they should grin and shake it off because someday they might live out some classist revenge fable is some serious head-in-the-sand f--kery.
Bullying is not something we fix simply by trying to teach kids who are bullied all the ways they can tolerate it, nor is it solved by threatening kids who are bullies that they might themselves be on the receiving end of the same torture. That doesn't work and it's f--king dumb.We need to be pointing the finger of responsibility squarely at adults who should be taking charge and protecting kids in these situations, not shuffling them off with feel-good video clips and sh--ty so-called "educational" fliers.
Watch, AFTER THE JUMP...