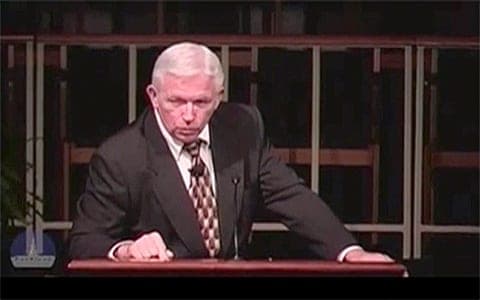 Florida State Rep. Charles Van Zant, speaking at an education convention in Orlando back in March, warned that a non-profit organization hired to implement new standardized testing in the Sunshine State is out to promote an LGBT agenda and indoctrinate children into homosexuality, Think Progress reports. Said Zant:
"Please, go on their website. Click the link to what they're doing with youth and you will see what their agenda really is. They are promoting as hard as they can any youth that is interested in the LGBT agenda and even name it 2-S, as they define as having two spirits. The Bible says a lot about being double-minded.
These people, that will now receive $220 million from the state of Florida unless this is stopped, will promote double-mindedness in state education and attract every one of your children to become as homosexual as they possibly can. I'm sorry to report that to you.
The 'these people' Zant refers to is the American Institutes for Research (AIR). The state of Florida hired AIR to incorporate new educational standards into its standardized testing so as to keep up with the standards found in Common Core, an education initiative intended to develop educational benchmarks that has been voluntarily adopted by 44 states. 
Common Core was sponsored by the National Governors Association (NGA) and the Council of Chief State School Officers (CCSSO) but has been used as of late as a rallying cry for the right to accuse President Obama and liberals of trying to indoctrinate children into homosexuality. Of course the accusation that LGBT persons and their advocates are secretly looking to recruit children into becoming gay is nothing new but rather a tried and true trope used by the far right (recall the Briggs Initiative, also known as Proposition 6, that Harvey Milk fought in California in the 70s). 
Speaking of recruiting students to become gay, ThinkProgress also points out the curious conclusion fact check website PolitiFact.com reached after examining the voracity of Van Zant's remarks: 
According to PolitiFact's investigation, the American Institutes for Research (AIR), which has been contracted to administer Florida's testing, does produce resources designed to support LGBT youth. However, the organization only provides these materials if they are requested, but the Florida Department of Education has only asked for English language arts and math tests. Thus, concludes PolitiFact, "We found no evidence that when AIR administers tests in Florida that the testing process will involve recruiting students to become gay." 
This analysis seems to imply that if Florida were utilizing AIR's LGBT youth resources, there might be some truth to the premise of Van Zant's claim. However, there has never been any evidence collected to support the claim that there is any way to manipulate or change a person's sexual orientation.
After ThinkProgress posted their piece calling out PolitiFact, PolitiFact posted the following update:
We should note that our previous fact-checking shows people can't be recruited to a particular sexual orientation. In 2011, GOP presidential candidate Tim Pawlenty said scientists are "in dispute" about whether being gay is a choice, and we rated that claim False.
You can watch a video of Van Zant's rant, AFTER THE JUMP…