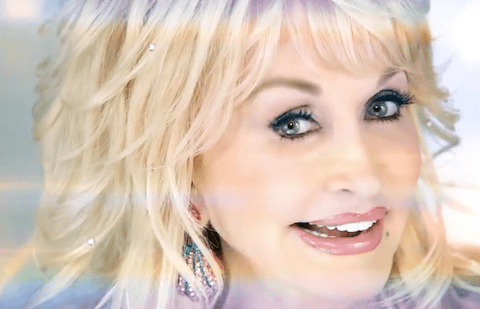 I can't even attempt to feign objectivity when talking about Dolly Parton. She is undoubtedly an icon, a superstar and an American treasure. Beyond the sequins, hair and makeup, she's one of the most extraordinarily talented musicians of all time. Her catalog is overflowing with some of the best-written songs in history. (The cantankerous Internet commenter who can't appreciate "Jolene" because he "doesn't like country music," needs to recognize that he may, in fact, just not like music.) She's been nominated for a Tony award, two Academy awards and 46 Grammy awards (tying her with Beyoncé for the most Grammy nominations by any female artist). Her musical contributions aside, there's still plenty of reasons why she's so beloved by the gay community.
From her humble roots growing up as one of 12 children in a one-room cabin in Tennessee, she's developed a legendary look and larger-than-life personality that's endeared her to generations of fans, gay and straight. Modeling her over-the-top appearance after the town tramp she admired as a child, her definition of glamour may not be for everyone. Go ahead and laugh, though. She certainly does. Parton famously jokes, "It costs a lot of money to look this cheap!"
Even if you're not one to go ga-ga over rhinestones and wigs, Parton's commitment to being herself, no matter what anyone thinks, is an interesting parallel to the gay experience. She told PrideSource.com earlier this month: "I do believe that I have a lot of gay fans because I think they do accept me as I am - the differences in me - and I think they know that I see that and love that in everybody else."
She's been vocal in her support of the LGBT community for years, including appearances on Larry King Live and in an interview with The Daily Mail, where she underscored her belief in marriage equality with her signature humor: "[Gay couples] should suffer just like us heterosexuals." There's a small blemish on her LGBT record, a dust-up at Dollywood over a marriage equality T-shirt, but she apologized for the misunderstanding. (While we're on the subject, how many folks you know have their own theme park?) Hey lyrics often include messages of acceptance and tolerance, including "Family," in which she sings: "Some are preachers, some are gay/Some are addicts, drunks and strays/But not a one is turned away, when it's family"
We can barely scratch the surface on Dolly's life and work in this space, but we'll do our best to contain our excitement with some of our favorite Dolly clips, AFTER THE JUMP …
Dolly got her big break performing regularly with Porter Wagoner on his weekly syndicated television show. She wrote "I Will Always Love You" about their professional separation in the early 1970s. (There's an episode of Drunk History, with Happy Endings' Casey Wilson as Dolly Parton, that hilariously recounts what happened after their split. See the uncensored clip here.) Since going solo, Dolly has collaborated with many other artists, including Boy George, Nickel Creek and most famously, Kenny Rogers on "Islands In the Stream." She also released two albums with Linda Rondstadt and Emmylou Harris (as Trio), as well as 1993's Honky Tonk Angels with Loretta Lynn and Tammy Wynette.
Her aesthetic is the butt of many jokes (mostly her own), however, she's a seriously incredible songwriter. "Jolene" may be the most famous Other Woman in music history, but it's Parton's personal favorite song, "Coat of Many Colors," that's been added to the Library of Congress' National Recording Registry for being "historically, culturally or aesthetically significant." So many of her songs tell incredible stories, with stand-outs like "Down From Dover," "Daddy's Moonshine Still," and "My Tennessee Mountain Home."
Though mostly considered a country artist, Dolly has had plenty of cross-over into pop. "Here You Come Again" was her first single to reach the top ten on the pop charts. "Starting Over Again," "Heartbreaker" and "Baby I'm Burning" also made the Top 40.
Parton has left her mark on movies as well. Her film credits include the classic Steel Magnolias, so-bad-it's-good Rhinestone and, most recently, Joyful Noise with Queen Latifah. However, it's 9 To 5 that's most adored by audiences. The film's titular song — for which Parton wrote the rhythm by rubbing her acrylic nails together — topped Billboard's Hot Country, Adult Contemporary and Hot 100 charts. It also earned her an Academy Award nomination. (She received her second Oscar nom for "Travelin' Thru" from Transamerica.) Additionally, she was recognized with a Tony award nomination in 2009 for writing 9 To 5: The Musical's original score.
The power of Parton's appeal also lies in her special brand of aw-shucks positivity. One of her famous Dollyisms is "If you want the rainbow, you gotta put up with the rain!" That attitude comes through on songs like "Better Get To Livin'" and "Together You And I," but there's almost no better cure for the blues than "Two Doors Down."
Which Dolly moments do you hold most dear? Let us know in the comments!