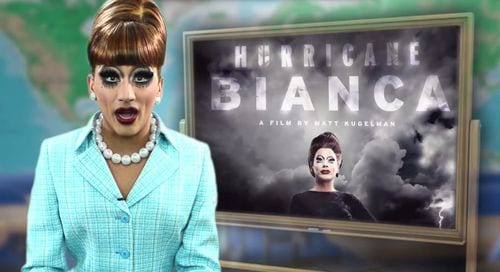 It was no surprise that Bianca del Rio, the foul-mouthed queen with a heart of gold, won season six of RuPaul's Drag Race just a couple of weeks ago. Somewhat more surprising is her next adventure as...movie star? That's right, the queen of mean is crowd-funding a new film, Hurricane Bianca, and she wants your help!
Bianca (aka Roy Haylock) is teaming up with director Matt Kugelman for the new comedy:
Hurricane Bianca is a feature-length comedy about a New York teacher who moves to a small town in Texas, gets fired for being gay, and returns disguised as a mean "lady" to get revenge on the people who were nasty to him! It's Tootsie meets Revenge of the Nerds, or Mrs. Doubtfire for the Jackass generation! Topical, touching and really funny, it's one person's journey to find himself while pretending to be someone else.
In return for your donation, Bianca and Matt are giving away some prizes, including the chance for an appearance on a web series called "Bianca Hates You." So, if you've been dying to have her read you (or if you want to avoid it) consider checking out the film's website and donating.
And check out a hilarious synopsis/infomercial/Drag Race montage, AFTER THE JUMP...