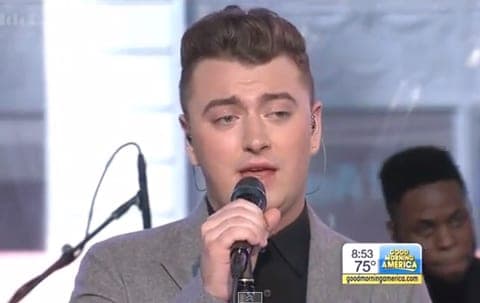 Newly out British singer Sam Smith charmed the audience members of Good Morning America on Monday morning with a live performance of his song "Stay With Me."
The song comes from the point-of-view of someone who sucks at one night stands but still longs for companionship. The lyrics read in part:
Guess it's true, I'm not good at a one-night stand
But I still need love 'cause I'm just a man
These nights never seem to go to plan
I don't want you to leave, will you hold my hand?
… Why am I so emotional?
No it's not a good look, gain some self control
And deep down I know this never works
But you can lay with me so it doesn't hurt
The song doesn't hint at Smith's homosexuality the same way that his music video for "Leave Your Lover" did, but its wistful cry for deeper connection still resonates regardless of one's sexuality.
You may also recall that Smith recorded a duet version of "Stay With Me" alongside Mary J. Blige. Occupy the Disco also included another Smith collaboration ("Running") on their Top 10 Tracks of 2012 list for Towleroad.
Watch Smith's live performance AFTER THE JUMP…