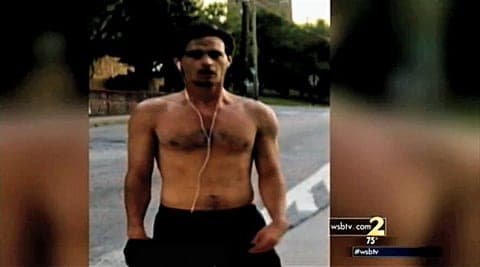 An Atlanta man has turned himself in after a cyclist and surveillance cameras captured him in an anti-gay assault on a cyclist on the Atlanta Beltline, WSBTV reports:
Quinn Chrzan, 24, says the man shouted anti-gay slurs just before the man slammed him into a gate and punched him repeatedly.

"I was pinned against the wall and my hand was sliced up so, there was nothing I could do," said Chrzan. "He just punched me in the face."

The incident happened at Beltline Northeast near McGruder Street.
On Wednesday, Michael Sanders turned himself in to Atlanta police. He was charged with battery and released Thursday morning on $5,000 bond.
"(He) kept calling me homophobic slurs and all I said to him was, Please don't use homophobic slurs,'" Chrzan said.
There were also several witnesses to Sanders' attack, which he said was motivated by Chrzan riding too close to him as he ran on the trail.
Watch the report, AFTER THE JUMP...