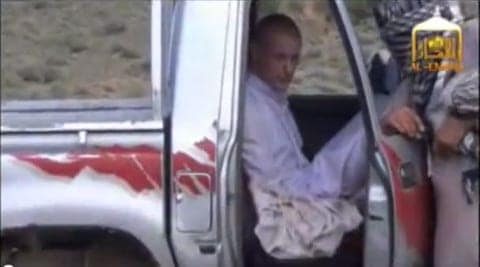 The Taliban released a video to media on Wednesday showing the handover of Sgt. Bowe Bergdahl to Special Forces in eastern Afghanistan.
President Obama today [Tuesday] defended the deal under which Army Sgt. Bowe Bergdahl was freed in exchange for high-level Taliban prisoners, saying his administration had consulted with Congress over a possible trade. And, he dismissed questions about how Bergdahl was captured by Taliban insurgents in Afghanistan in June 2009.

"Regardless of the circumstances, whatever those circumstances may turn out to be, we still get an American soldier back if he's held in captivity," Obama said at a news conference. "We don't condition that."

He said the U.S. has a "sacred" obligation to not leave service members behind.
Some members of Congress have expressed concerns over the details and the secrecy behind the exchange while some members of the military have deemed Bergdahl a hero, some a deserter.
Watch the exchange, AFTER THE JUMP...
Longer: