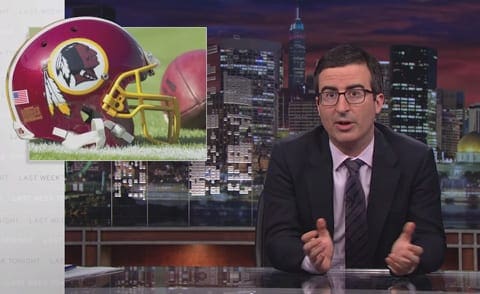 The U.S. Patent office has canceled six federal trademark registrations for the Washington Redskins, Think Progress reports: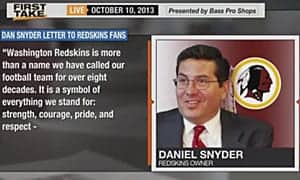 The U.S. PTO's Trademark Trial and Appeal Board issued a ruling in the case, brought against the team by plaintiff Amanda Blackhorse, Wednesday morning.
"We decide, based on the evidence properly before us, that these registrations must be cancelled because they were disparaging to Native Americans at the respective times they were registered," the board wrote in its opinion, ">which is here. A brief explanation of how the Board reached its decision is here.
"The Trademark Trial and Appeal Board agreed with our clients that the team's name and trademarks disparage Native Americans. The Board ruled that the Trademark Office should never have registered these trademarks in the first place," Jesse Witten, the plaintiffs' lead attorney, said in a press release. "We presented a wide variety of evidence – including dictionary definitions and other reference works, newspaper clippings, movie clips, scholarly articles, expert linguist testimony, and evidence of the historic opposition by Native American groups – to demonstrate that the word 'redskin' is an ethnic slur."
On last weekend's Last Week Tonight with John Oliver, Oliver blasted Redskins' owner Dan Snyder, a staunch defender of the name, on his show.
Watch, AFTER THE JUMP...
The team says it will appeal the ruling.