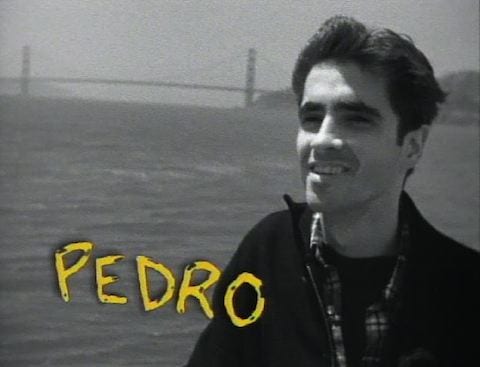 MTV's The Real World wasn't always the alcohol-fueled neanderthal breeding program it became in later seasons. The show's first few casts helped to not only pioneer socially-conscious reality television, but they also told some of the most ground-breaking stories about the LGBT community ever to grace the medium.
The third season, based in San Francisco, famously featured the story of HIV/AIDS activist Pedro Zamora. Born in Cuba, Zamora and his family came to America in 1980 and resided in the suburbs of Miami. He learned he was HIV-positive while still in high school, and spent the years following his diagnosis speaking out about living with HIV/AIDS and the importance of educating young people about the disease.
As part of 1994's The Real World: San Francisco cast, Pedro furthered the national dialogue about HIV/AIDS. A former honor student and star athlete, he pushed his roommates' understanding of people living with HIV/AIDS, and, in turn, the perceptions of audiences. (He also taught us that Puck was an idiot, but we probably would've come to that conclusion on our own.)
Revisit Pedro's impact with some clips, AFTER THE JUMP …
Pedro first met roommate Cory. He disclosed his HIV status to her on their way to the house. Later in the first episode, above, he shared his work as an AIDS educator with the rest of his roommates using a scrapbook.
Long before we were talking about things like Proposition 8, Pedro and his partner Sean Sasser celebrated one of the first same-sex commitment ceremonies on television. (The first was between Bob Paris and Rod Jackson on The Joan Rivers Show in the early '90s.) They were nominated as "Favorite Love Story" at the 2008 Real Worlds Awards Bash. You can watch their commitment ceremony at the 15-minute mark in the clip above.
Zamora had no health insurance, but MTV set up a trust to pay his medical costs. He died hours after the final episode of The Real World: San Francisco aired. To honor Pedro, MTV aired A Tribute To Pedro Zamora. You can see his castmates and friends speak of Zamora's impact in the clip above.
President Bill Clinton called Zamora before he died to thank him for his work. He later would appoint Zamora's partner Sean Sasser to the Presidential Advisory Council on HIV/AIDS.
In 2008, Bunim-Murray (the production company behind The Real World) produced its first ever scripted project, Pedro, a film dramatizing Zamora's life. The screenplay was written by Dustin Lance Black and Paris Barcly, and it was an Official Selection at the Toronto Film Festival.
Did you watch Pedro on The Real World: San Francisco?