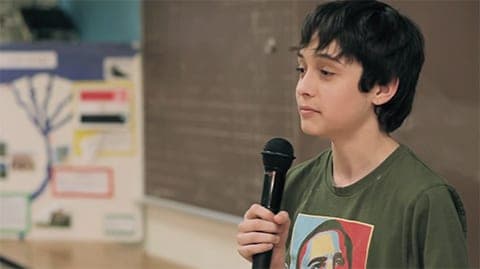 Filmmakers Joshua Sweeny and Kyle Wentzel are shedding light on the powerful effects that school environments have on LGBT youth in their new documentary Same Difference. The film tells the stories of two gay-identified boys, Graeme Taylor and Justin Aaberg, growing up in the midst of drastically different social settings:
Graeme Taylor, now 18 and off to college, grows up and goes to school in a supporting environment that allows him to thrive. Justin Aaberg (1994-2010) unfortunately grows up and goes to a school filled with intolerant backwards policies and scandal. Justin was just one of nine LGBT youth that took their lives while attending the Anoka-Hennepin School District between 2009-2011.
Same Difference focuses on the Anoka-Hennepin School District, which was identified as a suicide contagion area between 2009-2011 by state health officials after a slew of bullying-related deaths. Sweeny and Wentzel are currently in the process of raising funds to complete post production on the film via their IndieGogo page with 26 days left to go. Completion of their funding goals will bring the film to the festival circuit as well as to classrooms in order to better equip teachers and educators to handle discussions about LGBT identity in youth populations.
Watch the trailer for the film, AFTER THE JUMP...