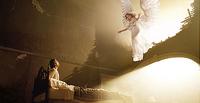 Angels in America is the first post 9/11 film I have seen digitally resurrect the World Trade Center for a skyline shot. Have there been others? The twin towers could have easily been excluded, as they have been in many other post 9/11 films. But no, they must have been added back in to the Manhattan skyline. It's funny how my heart gives a little jump every time I see them.
It's comforting to me, having lived in New York during the time period that Angels took place, and as someone who cares about the resonance that places have in our lives, that Mike Nichols took the bold move of including the WTC, if only for a moment. Especially when there are so many forces in political culture seeking to erase from popular culture the negative aspects of the past that don't reflect terribly well on them.
What I found even more interesting is that in relation to the film and its apocalyptic "Millenium Approaches" themes, a cinematically charged element like the WTC and its atrocious end, which could never have been fathomed in 1993 when the play was produced (or used effectively in the play for that matter), is used to great, layered prophetic effect by simply existing as the backdrop during a key moment of charged dialogue. A brilliant moment of subtlety in a truly outstanding film.
Despite bringing back all the horrible events of the onset of AIDS and the fear and paranoia that pervaded gay culture at the time, the film gave me a twinge of nostalgia for a New York that was much more innocent, and perhaps a lot more naive.