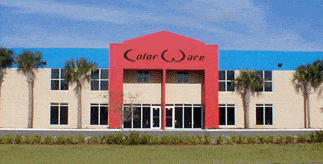 There's a new company called ColorWare (note the funky, retro-cartoon-looking facade of their company in Winona, Minnesota) that does custom coloring of your drab computer appliances, most notably, the iPod. (Thanks, Gizmodo)
The company sells pre-colored iPods, or you can send in your own 2nd generation iPod for them to color for you for $49. It seems they've taken their cue from the J.Crew color palette with color names like Midnight, Wet, Mystique, Ferrari, Dragon, and Caution (there are a total of 22 colors to choose from), but I think they may have hit on something from back in the disco era.
With such a wide variety of colors to choose from, there's no doubt that the color you choose will say something about your personality. The range of color choices recalls a social phenomenon that even I'm too young to have participated in, and that was the use of colored handkerchiefs by gay men in the 70's as a code by which their sexual proclivities could be deduced. Will the color of your iPod (Envy) let people know whether you're a hustler or a john simply by which back pocket you place it in? Or, by buying into the Caution color, are you letting people know you're into things just a bit kinkier?
With all the hubbub recently about whether or not the high school sex bracelets are an urban legend, I see something bigger breaking: a social color-coding phenomenon.
This puts a whole new twist on the recent trend in iPod jacking as reported in Wired. Now, when someone at Crunch West Hollywood comes over to jack into your iPod, they may be wanting more than to listen to that latest Cher remix.