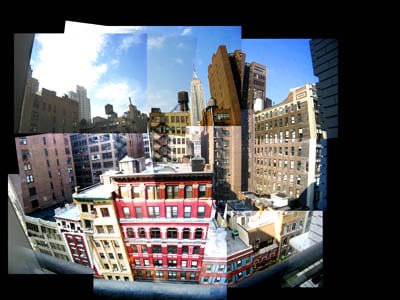 Ten years ago I was living in New York. It was the summer of the Gay Games and the 25th Anniversary of Stonewall. What a time it was. Here's a special shout out to all you NYers and those whose souls connect — enjoy the weekend…live life, be free.

Village Voice: A brief history of Christopher Street.

"This time, instead of throwing beer bottles they'll be throwing kisses." Policemen who harassed gay men 35 years ago at Stonewall Bar to march in parade with replica patrol car. Their story.

Black Pride NYC forging a new identity, "trying to bring back a sense of community in a time when many believe that the black gay experience has become nothing but the taboos of brothers living on the 'down low.'"

Time to revisit the Townhouse Bar, where men of a certain age have congregated for ages.

Gay panel of artists ruminates on gay artists. Simon Doonan: "I'm not waiting for a bunch of turds in the Midwest to approve of me."

For young gays on the streets, survival comes before pride.

Harvey Milk High School celebrates first graduating class.

Twenty years after her first hit, modern gay icon returns to Times Square, where she once worked at Dunkin Donuts, world conquered.

More of the Voice's 25th Annual Queer Issue.

Heritage of Pride schedule of events.
I <3 New York.