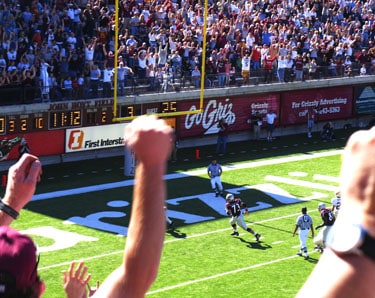 A college football game is a smorgasbord of testosterone-filled treats. Lines of RVs with tailgate parties, thousands of college boys stinking drunk, pick-up trucks, and draft beer. I went to a game this afternoon with my parents, who have become devotees of their hometown college team of University of Montana, "The Griz".
I caught this first moment as The Griz made their first touchdown to a stadium crowded with 25,000 fans. I have to say (Bush voters aside), being at this football game was a refreshing change from the too-precious oxygen of L.A. I'm not sure what energized me the most…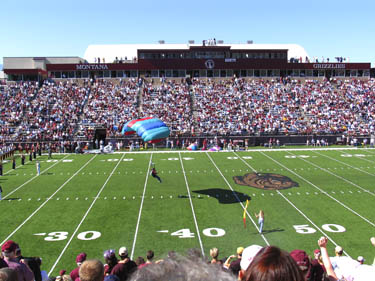 The five skydivers landing on the field in quick succession before the game started…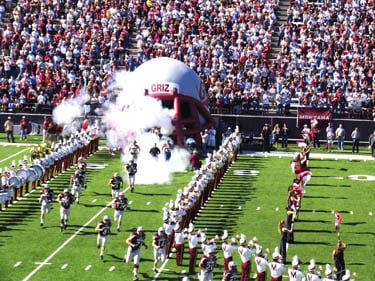 The helium-engorged football helmet which pumped out steam and then exploded with all the members of the U of M Grizzlies team…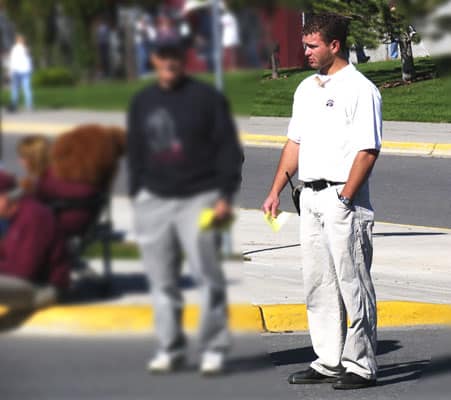 …or the oh-so-serious stud of a parking attendant near our tailgate party.
But I bought a Montana Grizzles cap. If you're ambitious (or horny), check out the players in their roster. You'll see what persuaded me.
Gay.com has taken locker room fantasies into their new ad campaign, which (awww!) features two football players in love.

From the press release:
"According to in-house creative director Christy Schaefer, the story of the campaign is simple: two players from the same team have been dreaming of each other for a long time until one day, after practice, they finally connect in the end zone. "What starts as a casual hook-up becomes a real connection. These guys are playing for keeps," she said."
Well I don't know who wrote that swishy PR quote but after this afternoon I can't help but have a little love for Christy Schaefer.
Btw, The Griz beat the crap out of Northern Colorado, which makes them even hotter.
Related article: Locker Rooms and Closets: "While gay and lesbian athletes are achieving higher profiles than in the past, the locker room is still one of the last gay frontiers." [Washington Blade]