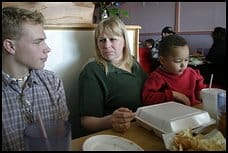 The Washington Post today begins a series on being young and gay in rural America. For the first part of the series they followed 17-year-old Michael Shackelford for hundreds of hours over the past year. Michael's story is one with which many of us are familiar, the story of self-discovery, of finding first love, yet his is compounded by life in Oklahoma, the Bible belt, and a family whose religious faith is at odds with homosexuality:
"The greater Tulsa phone book has 13 pages of church listings; there are 133 churches alone that begin with the word 'First.' One Tulsa church that bills itself as a 'hardcore, in-your-face ministry' constructs an elaborate haunted house each Halloween where live actors depict various sins. Last year's spook house featured a gay male pedophile."
Alone, Michael wonders about what the future might or might not bring:
"'Being gay, you'll never have that true love like a man and a woman,' Michael says, standing against his truck as Merle Haggard mixes with the backyard whippoorwills. 'Hearing all the songs about a man coming home from work to his wife's loving arms, you never hear of gay couples like that…Do you?'"
The article is moving, heartbreaking in places. Gay youth in America deserve better options.