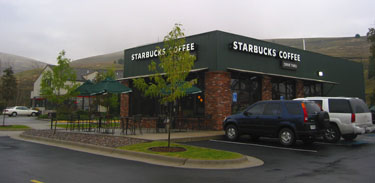 Before this week's trip up to Glacier we stopped off at what my parents said is Missoula's first Starbucks. The college town (University of Montana) is completely devoted to its downtown clutch of alternative coffeehouses, including one lesbian-owned venue called the Catalyst.
This one lurks on the outskirts of town, along a strip lined with Wal-Mart, Costco, and Barnes & Noble superstores. I do, however, think this is probably the only Starbucks in western Montana. I'm sure there are SB addicts (like those of the Apple stores) who go out of their way to find them (wait, I found one), and I know there are those who hate them enough to pelt them with eggs.
I'm sure certain Missoulians are up in arms about it.
Personally, I hate to see mom and pop shops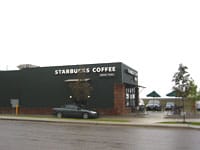 run out of town by big corporations. Unfortunately, I think it's going to continue to happen for a while — things grow and grow. Especially when Drive-Thrus assure people don't even have to get their fat asses out of the car.