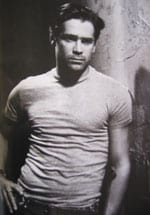 Colin Farrell explains to Chris Heath in the November issue of GQ why kissing men just isn't his cup of tea:
"I was very uncomfortable doing it [in A Home at the End of the World]. As much as I love Dallas [Roberts] — and I got on great with him—I didn't enjoy it. As I said, I don't enjoy going to the fucking gym, and I'd prefer to lift weights for twenty minutes than kiss a guy for two seconds. That two seconds is longer by a long shot…
It taught me what I knew already: I don't like kissing boys. When you feel his stubble against your lip, it's repulsive to me, as repulsive to me as for a lot of gay men the idea of putting their tongue near a pussy is—something that, for me, is akin to heaven sometimes. So I just freaked out."
Sexually ambiguous roles don't bother the actor, however much they might bug his reps, Farrell continues: "…If I picked another character that even seemed like he was potentially partial to having a cock in his hand that didn't belong to him, my agent would have a heart attack. But apart from making light jibes like that, I wouldn't have given a fuck."
Farrell also admits to being quite the flasher on the set of the upcoming Oliver Stone film Alexander, earning him the nickname of Cock-Out Colin.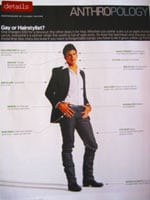 Meanwhile, from the gosh that would never have occurred to me department, Details finally jumps the shark this month with their "Gay or…..?" series as they draw the earth-shattering and uncanny similarities between gays and hairstylists. Gay or hairstylist? Now that they mention it I have noticed something rather fey about Marcellus down at the salon!
Condé Nast better ready the barricades. I'm sure the straight hairdressers will be picketing in droves.