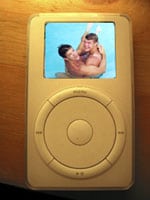 Think Secret reports that a 60GB iPod with photo viewing capabilities is imminent, within 30 to 60 days.
The new iPod, which will sit at the top of Apple's fourth-generation line-up, will pack Toshiba's new 60GB 1.8-inch hard drive, a 2-inch color liquid crystal display, iPhoto synchronization, audio/video-out capabilities, and will sell for $499.
The 60GB iPod will feature only rudimentary built-in software for viewing photos, with no editing tools, sources say. Photo albums will be navigated in a similar fashion to music playlists, and a slideshow feature will provide transitions with user-specified background music, similar to iPhoto. Synchronizing features similar to iTunes will also be added to iPhoto.
Sources indicate that Apple will market the new photo iPod as being capable of storing 20,000 music tracks and 25,000 photos. As an added bonus for music fans, album artwork will be displayed on screen when it's available for a selected track.

Sounds like the screen will be awfully small for any detailed photo scrutinization, but they report that you'll be able to hook the iPod to a TV for on-screen viewing of photos. It's a baby step toward that video ipod.
P.S. – The photo to the left is obviously just a mock-up of a 1G iPod from last year (when I was spewing about just this possibility).