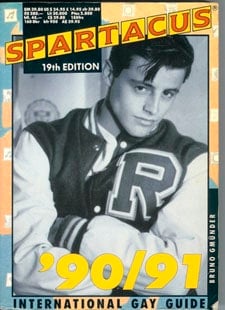 Note to Matt LeBlanc: When setting the record "straight" about certain things that couldn't possibly be true, make sure that you've destroyed evidence that might suggest otherwise, like the '90/'91 edition of the Spartacus Gay Guide on which you appeared as a cover model.
Now I realize that up and coming actors need work, so a simple modeling shoot to make a few extra bucks probably would have seemed like a good idea before the $1 million an episode days came along. However, as the former editor of a national gay publication, I can tell you that even today a great deal of straight male actors (and models) are squeamish about appearing in a homo rag.
So, to appear in one that lists, among other things, locations of cruising spots and gay bathhouses shows either a certain comfort level or a desperate need for cash.
I've always been a huge Matt LeBlanc fan and think he's a great talent, so I'm glad the cash issues finally worked out. As for the comfort level, it appears he's still working on that.
(thanks Ed Graczyk for the scan!)