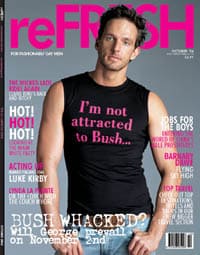 Newsflash: The boys at Britain's reFresh mag not attracted to carpet munching or America's 43rd president.
I tend to look at magazine covers and think I've seen it all before. But I think this is the first gay magazine I've ever seen use a cover to comment on the events of another country's election before the fact.
Then again, I'm not sure the stakes have ever been so high for the world at large.
.