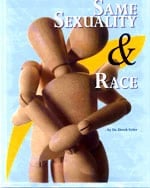 Is The Washington Post profiting from the support of anti-gay organizations? The daily newspaper based in our nation's capitol ran a 16 page anti-gay insert on Friday called Both Sides Magazine, which attempted to dissuade African Americans from the associations between gay and civil rights using discounted science from an anti-gay doctor who has even been disowned by the evangelical right.
Among the claims made by the doctor quoted in the insert are "that out of all the mass-murders in the US over the past seventeen years, homosexuals killed at least 68 percent of the victims, 29 percent of homosexuals urinate on their partners and 17 percent ingest human feces.The average life span of a homosexual is 39 years; fewer than 2 percent survive to the age of 65."
How appropriate that the insert's cover features two inanimate stick figure mannequins; groups like this would prefer not to think of us as human.